About Us
The Deatherage name has been well-known in the motorsports world for multiple decades. From 1985 to 1998, Greg Deatherage had been involved with high performance race car auctions and trade shows with his late father, Terry Deatherage, who passed away in 1998. In 1985, Terry contacted Dave Dayton and his wife, which had a huge amount of success promoting the Indy Racers Auction & Trade Show, and they showed the Deatherage's the ropes on how to do a show.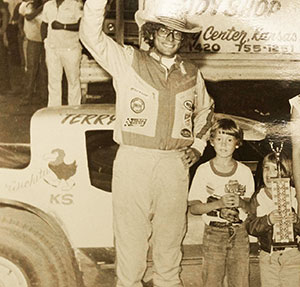 While doing their first shows in Houston and Fort Worth in 1985 with the help of the Daytons, this reinforced the issue that the Deatherage's could pioneer such shows in the south. From 1985 to 1995 shows were brought to Wichita Falls, Amarillo, Fort Worth and Houston, Texas; Tulsa, Okla., and Wichita, Kan. After Greg's dad passed away in 1998, Greg expanded into new territory in Oklahoma City. At this time he also added swap meets to the shows and started focusing on promoting chassis seminars with Late Model legend Billy Moyer, and nearly all employees of the Midwest Winter Raceshows have been with us from the start.
In addition to Moyer, some of the past speakers of our chassis seminars and race car clinics include Terry Phillips, Bill Frye, Joe Garrison of GRT Race Cars, Doug Wolfgang, Garrett Andrews, John Allen, Gary Wright, Rex Merritt, Eddie Martin, Scott Drake, Kevin Stoa, Doug Ingalls, Wayne Johnson, Mike Long, Earl Gaerte, Bob Westphal, Don Schoenfeld, Dennis Wells, Tony Hatfield and more.
No strangers to driving race cars are these three generations of Deatherages who have raced for six decades around the midwest. Terry raced cars and motorcycles from 1953 to 1993, and Greg raced both dirt and asphalt on and off from 1989 to the present. Greg's son, Gerrit, has been involved in karting since 2006.
Both Terry and Greg were, and are, certified opticians by the American Borad of Opticianry and National Academy of Opticianry. The proud Deatherage Opticians/Oakley decals can be found every year on the race cars of Billy Moyer, Billy Moyer Jr., Terry Phillips, Jeremy Payne, Bill Frye, Sprint Car legend Gary Wright and others.
Thanks to every single person that has ever attended one of our Midwest Winter Raceshows. We have enjoyed the friendships we have made over the years and we are always looking forward to seeing you at our next event.
We will always do our best to get you the most money for your items and to provide an excellent show for you.